How one can Export Mac Mail to PST Windows
Microsoft is known for its Windows compatible solutions from decade. Continuing the trend of rendering users a reliable communication mode, Microsoft maintained it by providing Mac Outlook an enhanced. For Macintosh systems, an email client with advance features and improved interface was provided that supports better scheduling, emailing, contacts saving and security options. Unlike Outlook for Windows where PST file stores the entire mailbox database, in Mac Outlook it gets saved in an archive folder.
There were many reasons why I thought exporting from Mac platform to Windows would prove beneficial. The concept for the changeover was quite simple; just change in the machines with different Operating System but what complicated my idea was Outlook.
When I came to Mac from PC, it was easy to import Windows Outlook data in Outlook 2011 as there was option to manually import a PST. Nevertheless, data migration was not that simple when vice versa was needed to happen as there is no option in Outlook Mac to "Export Mac mail to PST". There was only one option available, export to .olm file which would not be of any help as Mac mail file format is not supportive to PC Outlook.
I tried various means for data transfer but in vain. Then an IT department expert suggested me to use export Mac mail to Windows tools. So, basically when I thought of adopting this recommendation, there were three steps that I had to follow to export Mac mail to PST File Outlook Windows.
First, I had to decide which items should I take to Outlook PC and accordingly I have to convert them to Mac Outlook supported file format.
Second, I have to download Outlook Mac Exporter tool, install and run it in the system.
Third, open the PST created from Mac Outlook file and then remove the unwanted data from it. It can be kept open for being utilized as an archive folder.
Below mentioned is elaboration of these steps that one can follow in order to smoothly export Mac mail to Outlook PST file format.
Step 1 – Export Emails from Mac Mail Archive Folder to Windows Outlook
» It is obvious that less data will take less time for any sort of process to be executed on it. So, it is necessary that critical data items are selected and then migrated to Mac mail file.
» Once you logged on to Outlook Mac system, first of all, turn off the Wi-Fi connection or the other network link. This is to ensure that while emails and other items are being exported to Outlook Mac file, no new mails are downloaded from Server to the mailbox.
» Now, in Outlook for Mac, go to "File" » "Export"
» An "Export" window will pop up on screen that will ask for items selection asking "What do you want to Export?" Select the relevant options.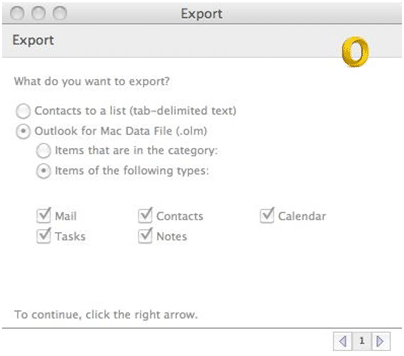 » Now, two options will be provided for retaining the data in Outlook Mac mailbox after being exported. Select "No, do not delete items" so that even after the data is migrated, it still remains in the archive folder.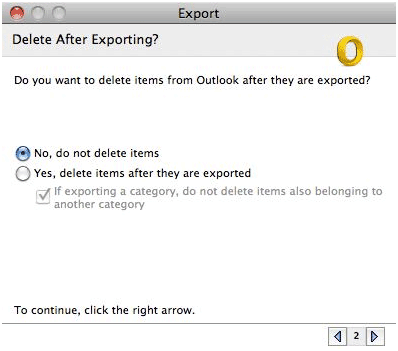 » A "Save Data Files as:" screen will pop on screen that will ask for destination location of the resultant Outlook for Mac data file. Select the location and then click on "Save" button.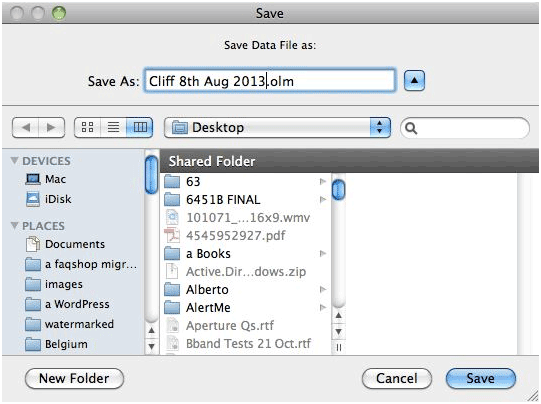 » According the amount of data, considerable time would be taken while exporting the items to Outlook for Mac file.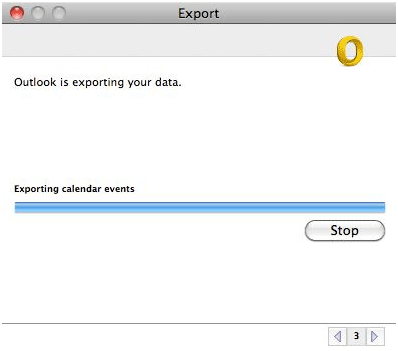 » Once the process is complete, an "Export Complete" screen will pop up. Click on "Done" button in order to close the current screen.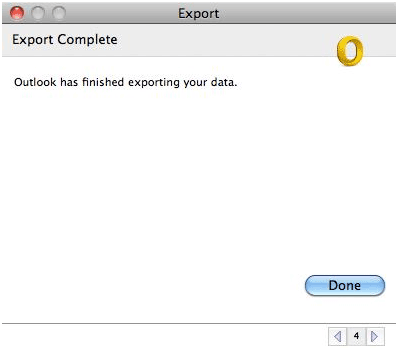 Step2– Copy Data File on PC and Export Mac Mail to Outlook for Windows
» For this, it is necessary that Outlook Mac Exporter is configured on Windows system. Once the installation process is finished, a list of requisites will pop up on screen so that before starting conversion, basic system requirement are known to you and fulfilled.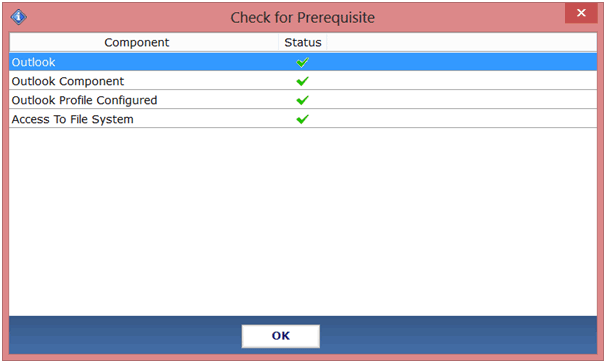 » The next screen will ask to browse the Mac Outlook data file that is to be converted to PST file format. To start up export Mac mail to PST, select the path of data file with the objective to Add File.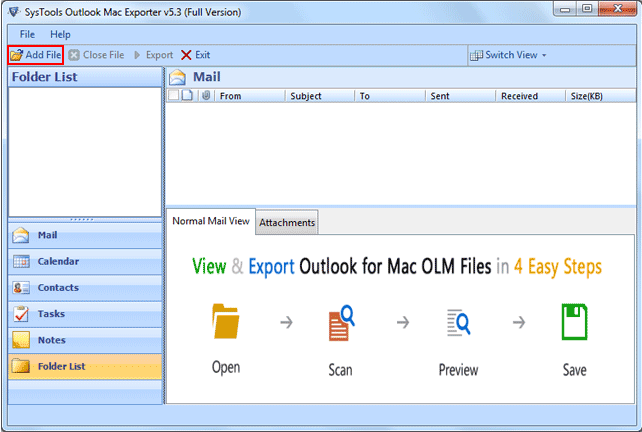 » For the purpose of selective data migration from Mac mail to Windows Outlook, there is certain filter options embedded in the tool. There are three types of Filters in the tool to export Mac mail to Windows Outlook.
» Categories: You can select the mailbox item that is to be migrated from Mac Outlook data file to PST, EML and MSG. For example: emails/contacts/calendars/tasks, any one or all of them can be chosen as required.
» Email Filter: A particular interval can be selected filling the "To" and "From" options. This way, emails between the defined range will get converted from Outlook for Mac to PC.
» Calendar Filter: Similar to the email filter, this option is meant for calendars. Here also, users can define a range of time period for conversion.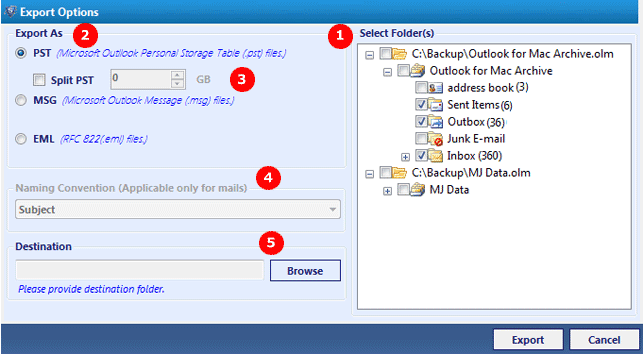 » The "Export Status" will get displayed on screen with details as how much data is being migrated with complete information.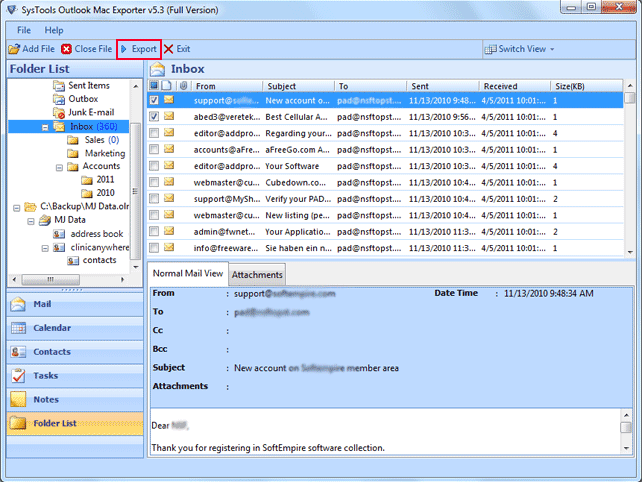 » Once the process to export emails from Mac mail to Windows Outlook is finished, a message will pop on screen informing about the same.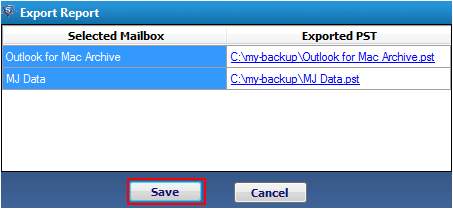 Step3– Open Newly Created PST in Windows Outlook
» The best about the software is it keeps the Mac mail file safe and creates a new PST file. When the resultant PST is with you, it can be added to Outlook (for Windows). However, it is the choice of individual to keep the selected data and remove the unwanted one. My email data from Mac Outlook was smoothly exported to Outlook for Windows with the help of software and if you are confronting the same problem, then I would recommend this brilliant solution to export Mac mail to PST file format.